HAPPY FRIDAY EVERYONE!!!
I have seen some comments here saying that they would love for the blog to updated more frequently.
At this point, we have each of the designers scheduled to post on the blog once a month - which equates to about twice a week. It's funny because I always tend to be late when it's time for me to update. But, when I sit down to post, I realize how super-easy it is to update!
Now, actually having a layout or example or something ready - that's a different story. For me, scrap time is always listed on my To Do list, but always gets pushed back when it comes down to it. I know that a lot of you can relate! I have this great scrap room that I hardly ever use for scrapping. Instead, most of my scrapping happens at crops!
So, I know I need to make time to scrap and prioritize that so I have examples.
In the meantime, I'd love to hear WHAT YOU WOULD LIKE TO SEE! What things are cool to see on a blog? Layouts? Examples? Sneak Peeks? Stories? Pictures? PLEASE COMMENT ON THIS POST AND TELL US WHAT IS FUN TO SEE!! WHAT ARE YOU LOOKING FOR????
Today. Just to give you something different to look at, I'm posting a pic of my kitchen. You may have heard that we're at the start of a kitchen remodel. This is one of the reasons I don't have time for scrapping! It started on Tuesday and they pulled everything out this week! I'll show you the 'Before' picture and the 'Current' picture!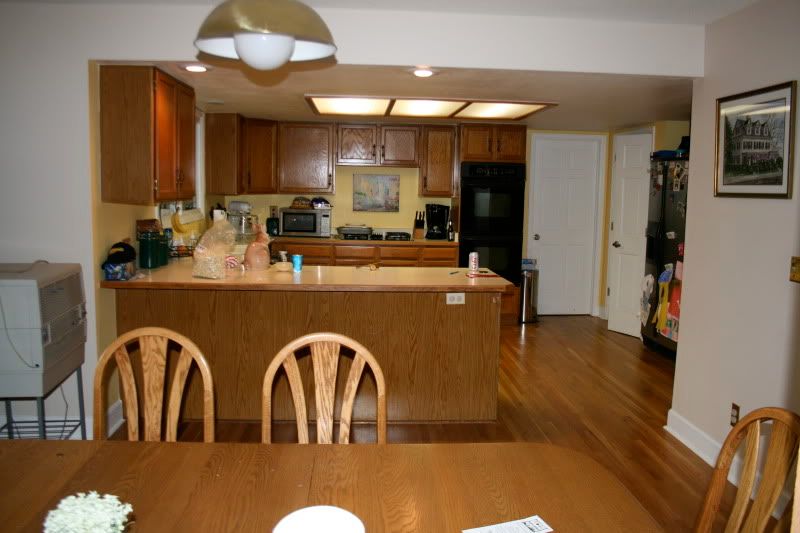 It's hard to see in the picture below, but that silly dropped ceiling is GONE!!! It's such a dramatic change! I'm very excited!